Brand New Interactive Fish Tanks in Uozu Aquarium
We are delighted to be appointed by Uozu Aquarium, the only aquarium with permanent marine displays in Toyama Prefecture, to design and create three interactive aquariums – Flowing Aquarium, Bird's Eye Aquarium and Overlooking Aquarium – for family fun in the newly renovated Kids Zone on the third floor last year. The play area, which aims at engaging visitors in learning through hands-on experiences, is open to the public from March 5, 2022.
The three aquariums have unique features and different playable interactive contents for visitors.
Flowing Aquarium, powered by an electricity-generating bike, creates and changes water current for freshwater fish, allowing visitors to get a closer look at fish swimming upstream. In the middle of the fish tank, there is Kouroka Lava to mimic the nature and construct a natural environment. Visitors can enjoy viewing the fish at close proximity while sitting on the bench next to the tank.
A bar counter-type Bird's Eye Aquarium is also set up to grow corals. Visitors can fully enjoy the glowing corals in the dark when they shine the blacklight on the tank. As it is rare to grow corals in Bird's Eye Aquariums, visitors can take this opportunity to indulge in the amazing and vibrant atmosphere.
Last but not least, Overlooking Aquarium, which is transformed from the classic 120cm-long Bird's Eye Aquarium YU for keeping reptiles, allows a close Bird's Eye view from above. Visitors can sit on the provided bench and watch the animals leisurely.
The beloved animal height comparison panel visually in the Aquarium is also revamped. Visitors are welcome to take photos and compare heights with the new stuffed toys with 1:1 ratio. What's more, ten kinds of fluffy animal head covers are placed in different areas for photo taking. (Fluffy animal head covers are not provided currently to prevent the spread of COVID-19.)
It was so popular that we had to wait in the long queue for our turns. Everyone in my family has tried the electricity-generating bike to power the fish tank. It's quite heavy for me and I couldn't do well, but daddy did a great job! We had a lot of fun!
I sat on the bench to watch the blue-tongued lizards, and I was surprised that there was one staying motionless all the time!
The corals glowed in vibrant colours when I shone the provided blacklight on the Bird's Eye Aquarium. Even kids can try themselves and have fun!
Creating Innovative Aquariums
In order to make Flowing Aquarium, it is required to produce a system to create water flow powered by bikes. We had the whole picture in mind from the very beginning, but we encountered quite a lot of difficulties during the manufacturing process. For example, we had to go through trial and error to find the perfect balance of the gear ratio of the electricity-generating bike so that both kids and adults can have fun. In order to achieve this, some primary school students were invited to try the bike to help us make final adjustments. We also thought of different ways to make sure that fish can enjoy swimming against the produced water current.
Toyama Prefecture is famous for its rapid rivers, so it is no doubt that its freshwater fish like fast-flowing water. When they feel tired, our centrally-positioned Kouroka Lava creates a cave effect, making it a perfect refuge for them.
The fish tank is well-built with an exercise bike, but overdoing might cause accidents Visitors are advised to produce the best water current for fish with caution.
This task would not have been possible without our remarkable aquarium manufacturing skills, extensive fish and water knowledge, established expertise covering electrical and mechanical engineering, and comprehensive knowledge in a wide range of fields. As it is inventive for visitors to enjoy aquariums while sitting, we are delighted that we can make it happen.
We pursue excellence by upskilling and enhancing product developments to innovate creations and services. Please feel free to contact us for inquiries if you have imaginative aquarium designs in your mind.
Uozu Aquarium
1390 Sanga, Uozu-shi, Toyama, JAPAN 937-0857
TEL: 0765-24-4100
Uozu Aquarium
1390 Sanga, Uozu-shi, Toyama, JAPAN 937-0857
TEL: 765-24-4100
INSTALLATION CASE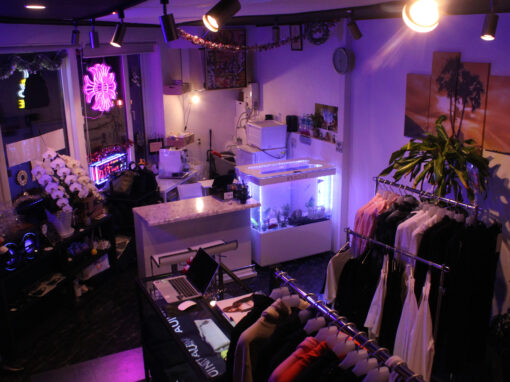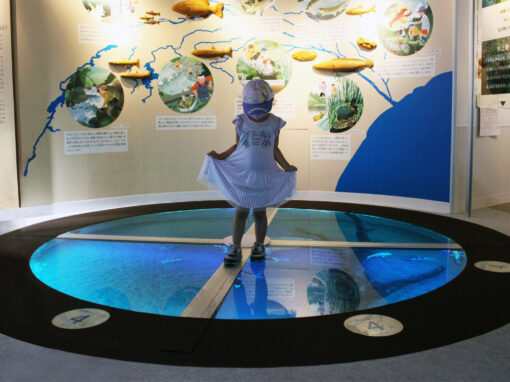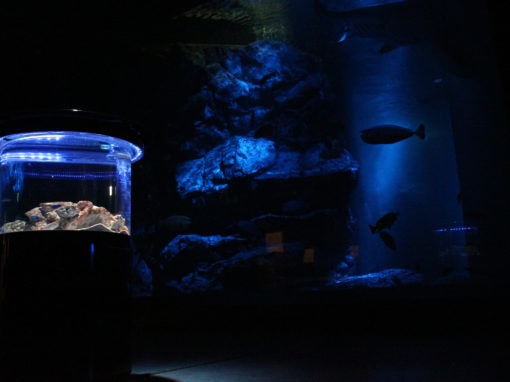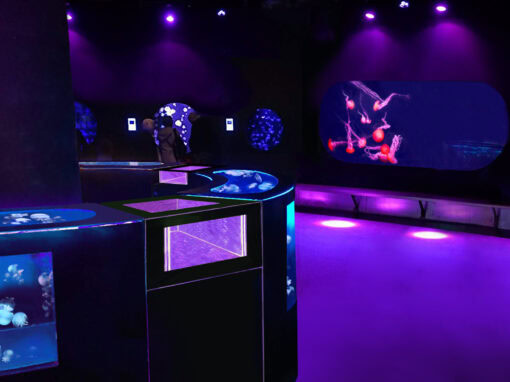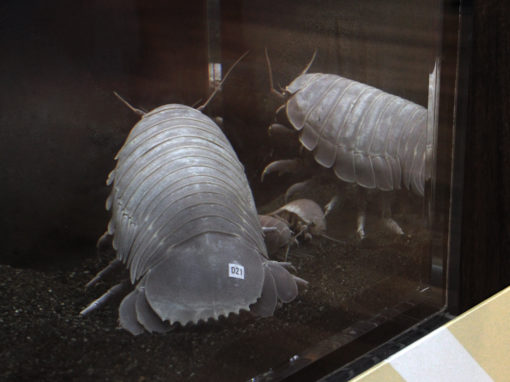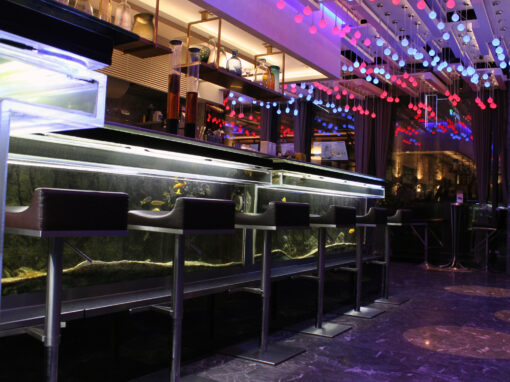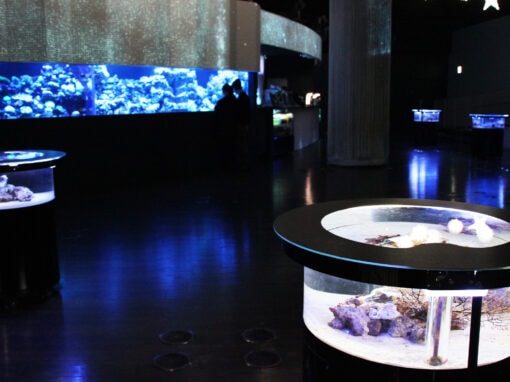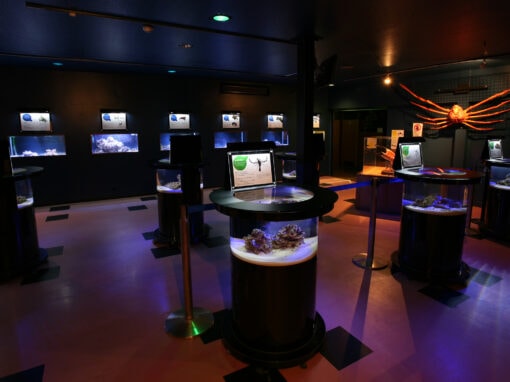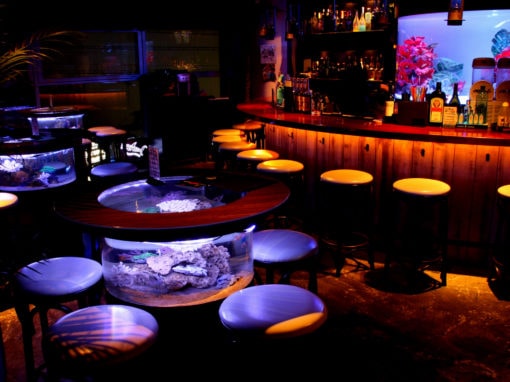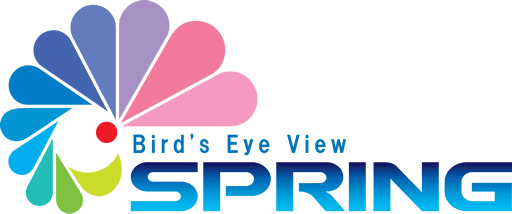 Spring Inc.
We are an innovator of aquarium, manufacturing acrylic tanks
including the world-patented Bird's Eye Aquarium
in our own factory in Yamanashi, JAPAN.