Walking On Clear Water and Watching Fish Swim under Feet
Opened in 1987, Sagamigawa Fureai Science Museum aims at strengthening the relationship between humans and Sagami River, as well as arising people's awareness in protecting it. Acting as a common space for gathering, familiarizing, and learning Sagami River with fun, this aquarium was renovated in 2014, adding "Aquarium Sagamihara" in its name. It is now exhibiting about 100 species of creatures that inhabit in Sagami River.
In 2020, the Museum introduced a new plan to install Bird's Eye Aquarium AYUMI, a new fish tank display possessing the concept of Bird's Eye Aquarium to be embedded in the floor, so that visitors can enjoy seeing fish swiming right below. This new aquarium demonstrates the crystal clarity of Sagami River, allowing visitors to experience the pleasure of walking on water and fully enjoy fish swim under their feet.
The fish tank adopts a cylindrical design with a diameter of 3m and a water depth of 50cm. Its main body is composed of concrete blocks assembled on top of the foundation under the floor, which are formed with fibre-reinforced plastic (FRP) resin for waterproofing. Taking into consideration of easy feeding and maintenance, the top glass is divided into four pieces, which can be pushed upwards through the corresponding electric actuators. What's more, thanks to the attachment of the highly-transparent PVC removable sheet and hard-coated gloss laminate on the top glass plate for scratch prevention, visitors can enjoy carefree walk on the tank surface.
Like other Bird's Eye Aquariums, the top glass plate of AYUMI has seamless contact with the water surface, providing an immersive experience like observing the clear river using a box-shaped hydroscope.
In 2019, we, as a designated administrator, planned to install a new exhibition tank as one of the measures to further improve satisfaction and make contribution to the community. According to the previous satisfaction surveys, the exhibition area "People Zone" was identified for improvement, but large water tanks could not be installed due the load capacity limit of the floor as there was a hole underneath. We finally managed to overcome this difficulty with the idea of creating a brand new floor embedded exhibition tank, which aims to exhibit creatures like never before, allowing visitors to observe fish directly from above, to experience as if walking on water, and to feel the clear blue water as in the river. Thanks to the collaboration with Spring Inc., the mission was accomplished and Bird's Eye Aquarium AYUMI was introduced for displaying sea creatures on June 2, 2022.
In the satisfaction survey conducted in September 2020, more than 40% of the visitors mentioned that AYUMI was interesting and gave satisfactory performance. In other words, our original goal of improving customer satisfaction was achieved.
Breaking through with Floor-Embeded Bird's Eye Aquarium
Based on the principle of table-type Bird's Eye Aquarium, it was theoretically possible to produce floor-embeded type Bird's Eye Aquarium, so it was worth taking up the challenge. It was, however, our first time to manufacture a Bird's Eye Aquarium with a diameter of 3m. It was of the utmost importance that the horizontal accuracy had to be maintained, and the works had to be carried out meticulously and precisely.
Normally, a huge aquarium with a display surface of about 3m x 3m is expensive because of the increasing thickness of the acrylic sheet. Bird's Eye Aquarium AYUMI, however, is floor-embedded with a shallow water depth, it can withstand great water pressure even with thin sheets. What's more, since fish is observed from above through the top glass plate, the main body can be made of FRP instead of acrylic. The cost can be kept down as a result.
How about setting up an aquarium with evolving functionality and timeless design to create a distinctive and captivating space to increase customer satisfaction?
Sagamigawa Fureai Science Museum
1-5-1 Suigotana, Chuo-ku, Sagamihara-shi, Kanagawa, JAPAN 252-0246
TEL: 042-762-2110
Sagamigawa Fureai Science Museum
1-5-1 Suigotana, Chuo-ku, Sagamihara-shi, Kanagawa, JAPAN 252-0246
TEL: 042-762-2110
INSTALLATION CASE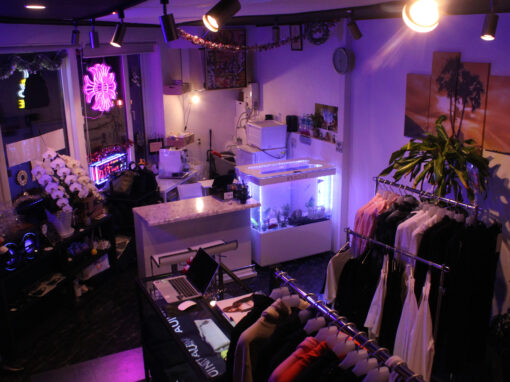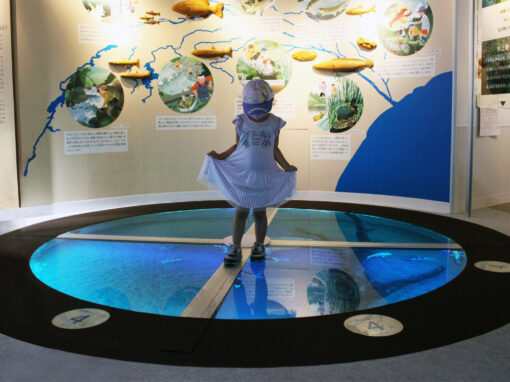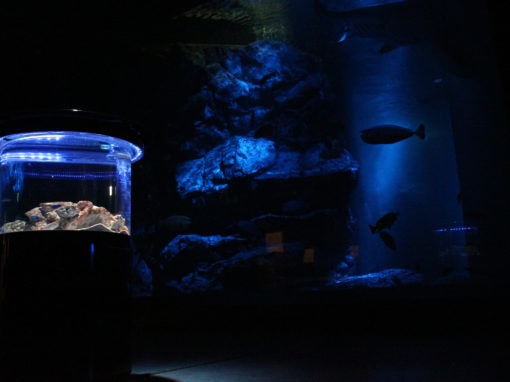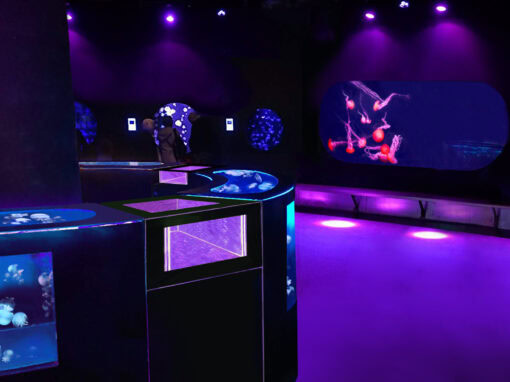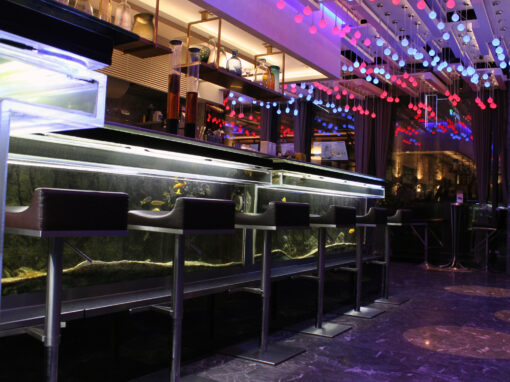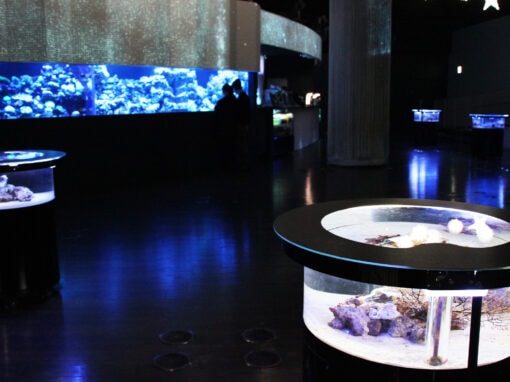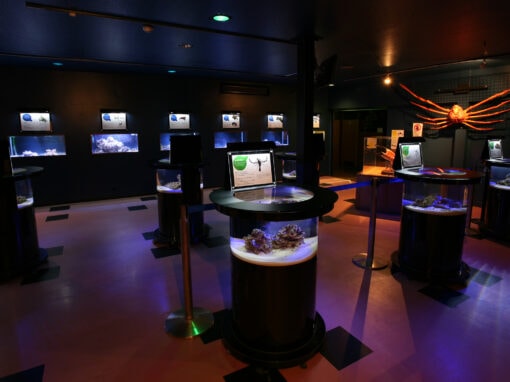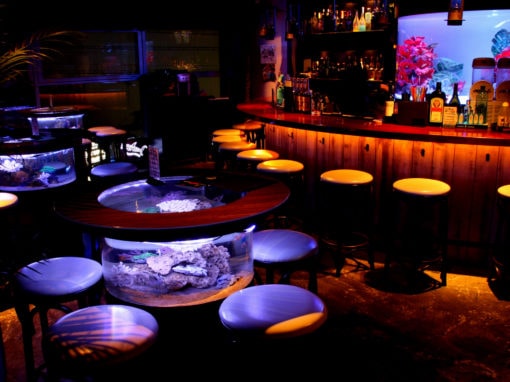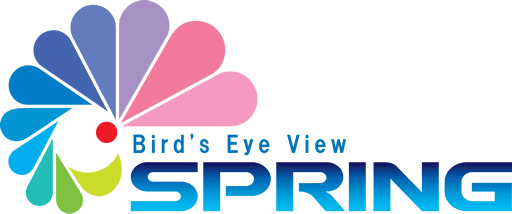 Spring Inc.
We are an innovator of aquarium, manufacturing acrylic tanks
including the world-patented Bird's Eye Aquarium
in our own factory in Yamanashi, JAPAN.